Troop History
Patrol Links
WELCOME! Set yourself down at our virtual campfire!
Troop 505, "The Prairie Troop", was chartered in 1964 and has been a continuously active troop in Naperville, Illinois, a southwestern suburb of Chicago, since its inception. We are chartered by Knox Presbyterian Church, located at the corner of Gartner Road and Catalpa Lane in Naperville, Illinois.
Many boys have graduated from the troop with the skills, values and self-confidence necessary to guide them through their entire adult life. Troop 505 has awarded over 170 Scouts their Eagle rank, the highest rank a Boy Scout can attain.
The values we and the Boy Scouts of America strive to instill are based on those found in the Scout Oath and Law.
For further information about joining Troop 505, please click on Information Request or phone our Scoutmaster, Jezza Sutton at sm"@"troop505.org (630) 416-8427 or Committee Chairman, Mark Minter, at (630) 355-4726.

Nathan Sadler, 
Eagle Court of Honor 
Saturday May 10, 2:00 P.M.
---
STEM-O-Rama

Saturday, May 17, 2014

Scouts, their families and the general public are invited to STEM-O-Rama held at the Kane County Fairgrounds on Saturday, May 17th from 9:00 am to 4:00 pm showcasing over 100 Science, Technology, Engineering, and Math exhibits

Flyer
More info

---
The Seabase trip is closed but we still have time for the Summit.
Find out your options!!!
---
Monday December 9, 2013 6:45 PM Knox Organizational meeting before regular meeting

Saturday February 1, 2014 8:00 AM Knox Training session -- about 2 hours

Saturday March 1, 2014 8:00 AM Knox Training session -- about 2 hours

April/May -- TBD CPR training

Saturday June 7, 2014 8:00 Am PNC Bank lot -- meet to travel to Blackwell for training
session on Silver Lake -- back to Knox by 5:00 PM


Saturday July 19, 2014 5:00 AM PNC Bank lot -- meet to head to MN, spend night in Ely

Sunday, July 20, 2014 7:00 AM On the water

Saturday, July 26, 2104 Noon Off the water, spend night in Ely

Sunday, July 27, 2014 6:00 AM Head to Chicago, arrive late afternoon
---
2013 T-Shirt Design Contest Winner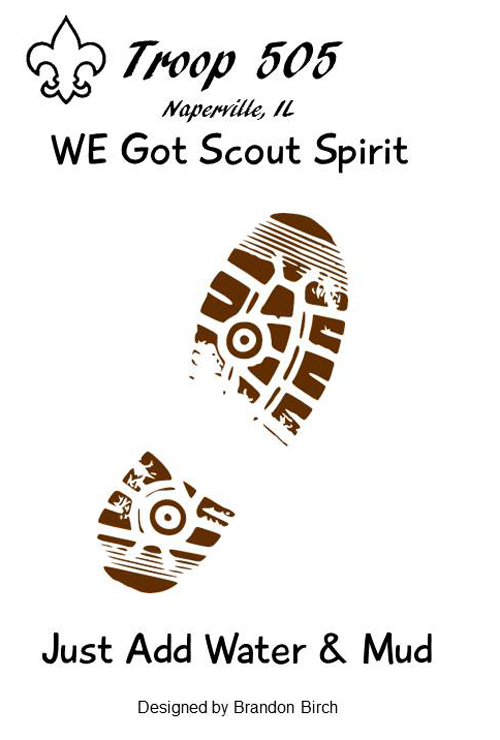 Congratulations
Brandon B.
---
Merit Badge Workshops
---